1. MOVING PICTURE (1961) B&W 6 minutes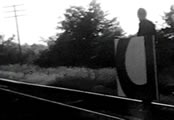 An artist carries his abstract painting around
in an indifferent rural setting
to the sounds of Charlie Mingus.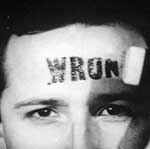 2. HOW TO EAT (1964) B&W 6 minutes
A parody of educational films with a step-by-silly-step analysis of eating.
Award: Chicago International Film Festival 1965
Museum of Modern Art, NYC permanent collection
Screened at the Museum of Modern Art, New York, NY 1993 and 2001; Film Forum, New York, NY 1977
Cablecast on the Nickelodeon cable network
Distributed by Grove Press
3. BANG, HEAD GO BANG BANG ( 1967) B&W 9 minutes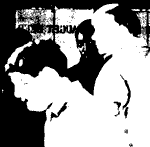 A fragmented narrative of a boxing match, a fight in a bar, an unidentified woman, and a man in bed trying to piece together these memories in the spirit of "Last Year At Marienbad".
Screened at the Aardvark Cinematheque at Second City, Chicago, Illinois 1966
Distributed by Grove Press

4. REDUCTION (1967) B&W 11minutes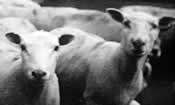 A satirical and chilling commentary on conscription produced in the midst of the Vietnam War era.
Distrbuted by Grove Press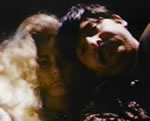 5 . ONE NEETAH AND MICKEY (1969) COLOR AND B&W
7 minutes

An abstract and experimental boy- meets- girl film.
Selected for screening at: Maeght Foundation's Contemporary American Art Exhibition 1970, Saint Paul, France; the Spoleto Festival 1970, Spoleto, Italy.
6. OPENINGS (1972) COLOR 9 minutes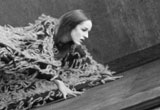 A dance-like metaphor structured around the contrasts of positive life forces as represented by imaging from nature, as opposed to hostile negative forces symbolized by human-created environments.
Invited for screening at the International Film Festival of the Estoril Coast, Estoril, Portugal 1989


7. THE RITZ NEWSIOLA (1975) B&W 18 minutes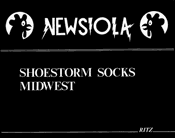 Three 6 minute comedy films inspired by the newsreels of the 1940's. Described in NEW YORK MAGAZINE as .."better than most of 'Saturday Night Live'..."
Distributed in 35mm by New Line Cinema
Award: Chicago International Film Festival 1975
Shown on PBS, Showtime, Nickelodeon
Screened at Film Forum 1977, New York, NY
Permanent collection Donnell Library , NYC
8. THE USED NEWS (1975) B&W 12 minutes
Five films based on THE RITZ NEWSIOLA and broadcast nationally on Children's Television Workshop's "The Electric Company".
Screened at the Museum of Modern Art 1975, New York, NY
9. JOKING: NO LAUGHING MATTER (1977) COLOR 17 minutes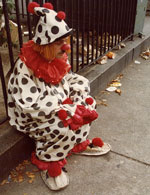 A psuedo-scientific, tongue-in-cheek study of why we laugh, inspired by Freud's book on joking.
Awards: Athens International Film Festival, Athens, Ohio 1978; Baltimore International Film Festival, Baltimore, Maryland 1978
Cablecast in the USA on: Cinemax, HBO, Nickelodeon and Showtime
10. SEEING IS BELIEVING (1980) COLOR 10 minutes
A comic jab at those media reports of Big Foot, The Bermuda Triangle and various extraordinary people and inventions.
Shown on HBO, Cinemax, Nickelodeon
11. THE BROKEN PROMISE (1983) COLOR 3 minutes
An idea inspired by a vacant store on 8th Avenue in NYC. The film acknowledges an indebtedness to silent comedy.
Screened at the Minoriten "Strange Movies" series, Graz, Austria, 1997
12. THE BLINK-O-RAMA THEATRE (1985) COLOR 36 minutes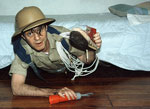 Thirty-eight mini-comedy bits running 30 to 90 seconds each and featuring repeating titles such as "Adventures Into The Unknown", "Superheroes We Really Need", "World's Smallest Disasters" and a series of 24 sight gags. Commisioned by the Nickelodeon Cable Network, USA
Shown on Nickelodeon, Canal + (France), Portuguese National Television, Swedish National Television
Award: 8th International Festival of Cinema for Children and Youth, Tomar, Portugal Invited to participate at the International Film Festival for Children, Laon, France 1987
13. ON BALANCE (1987) COLOR VIDEO 3 minutes
A short humorous essay critical of contemporary conservatism.
14. MY WAR STORIES (2002) COLOR AND B&W VIDEO 32 minutes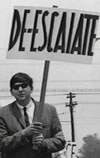 A personal memoir of the 1960's that weaves an impressionistic tale of those turbulent years while exploring the complexities of the peace movement from the vantage point of a filmmaker, cartoonist and participant.
Award: Chicago International Film Festival
Broadcast: WTVP television, Peoria, Illinois 2003
Screenings: The Millennium, NYC 2003; Rutgers University Film Co-operative, New Brunswick, NJ 2003
FILM FESTIVAL JUROR
New Jersey Young Film and Video Makers Festival, New Jersey 2000
Festival of Short Films, Grenoble, France 1993
Baltimore International Film Festival, Baltimore, Maryland 1979
Independent Film Exposition, New York, NY 1978